My personal connection to the show
In 2008, I was in grad school studying Shakespeare. My roommate Robbie invited me to watch this show on DVD. I loved the show at the first watch and bought my own copy soon after. I also shared watching them with the woman who would later become my wife. Watching this show was our unofficial first date!
So as you can see, I clearly have a bias and a nostalgic connection to this show, but I think it has garnered enough praise that I can justify my admiration of it. The creators are Tony award-winning writers. The actors are acclaimed stars on stage and screen, all of whom have experience with Shakespeare, musicals, improv-comedy, or all three! So we have a comedy written by talented theater practitioners, acted by professional Shakespearean actors, and half the dialogue is Shakespeare? Was this show made specifically for me?
The premise of the Series
Something is rotten at the New Burbage Shakespeare Festival- a fictional Canadian Shakespeare company that is loosely based on the Stratford Shakespeare festival. The Artistic Director, Oliver Wells has died in suspicious circumstances, right before he was to start rehearsing "Hamlet." Wells' successor is a volatile actor-manager named Geoffry Tennet, who, in addition to dealing with the work-a-day demands of running a theater, the backstage drama of directing a play, his own romantic feelings for lead actress Ellen, is also having ghostly visits from his old mentor, Olliver! What follows is a funny, tragic, bittersweet comedy about drama. It's The Office for Shakespeare Nerds!
The Cast
The drama centers around the actors and actresses in the New Burbage Festival as they rehearse a Shakespeare play; Hamlet in Season 1, Macbeth in Season 2, and King Lear in Season 3. The subplots are more often than not workplace drama. Ironically, though the main cast parallels hamlet, the management team of Richard St-John (with a hyphen, played by Mark McKinney) and Holly Day (Jennifer Irwin), are unknowingly playing Lord and Lady Macbeth. The two of them plan to sabotage the production and eventually replace all Shakespeare shows with a more profitable musical-theatre-centered festival. It's deliciously ironic that McKinney plays the scheming musical-loving Richard, since he himself is one of the Tony-award-winning writers of the Drowsy Chaperone.
Paul Gross as Geoffrey Tennet
I've said before that Gorss gives a kind of animal intensity as Hamlet and Geoffrey, and this is especially true in Season 1. When we first meet him, Geoffrey lost his girlfriend, his sanity, and his career as a respected actor. Then he has to return to the theatre where the man who betrayed him works, and is forced to take over this same theater as Artistic Director.
Geoffrey's Journey
If you've never seen the show before, I should warn you, GEOFFREY IS AN ABSOLUTE JERK in the first few episodes. Like I said, he starts out hating his job and pushing away everyone who comes in contact with him. However, little by little, he re-discovers why he loves theater, Shakespeare, and his friends and colleagues. Look at how he goes from a sarcastic pedant to a real director as he teaches these businesspeople how to act!
Rachel McAdams As Kate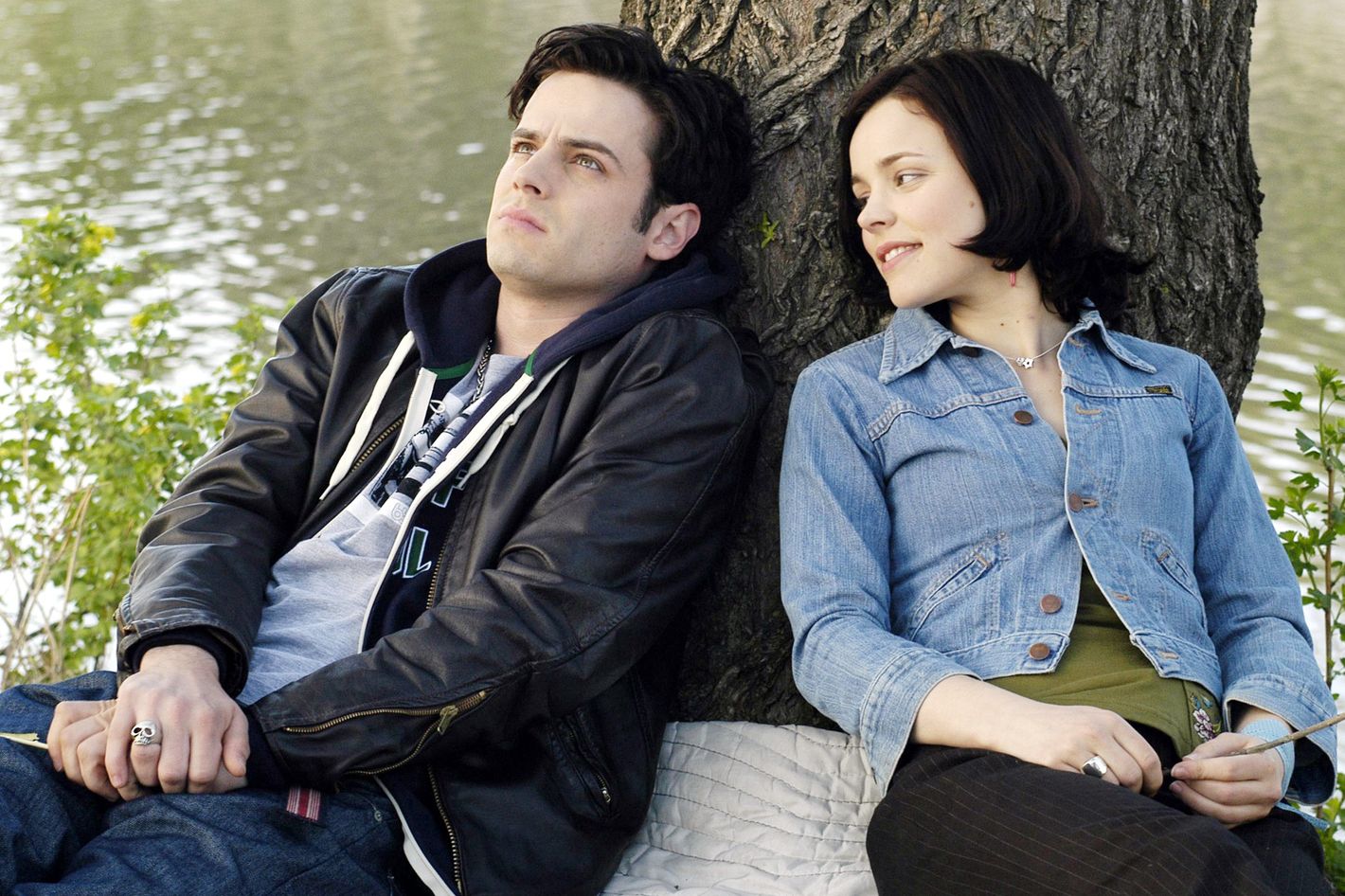 The most truly lovely thing about season 1 in particular, is watching Rachel McAdams' charming and heartfelt performance as Kate. She plays a struggling actor who deeply loves the theater and dreams of becoming a respected actress. Her dreams are tested however when she falls in love with one of her co-stars and is accused of sleeping her way into a better role.
McAdams is the perfect ingenue in this show: She is naive, charming, Ernest, and kind. You watch Kate struggle and desperately want her luck to turn around and then rejoice when she gets to fulfill her dreams.
As Kate on Slings, she's the understudy who knows better — happy to be cast, sad that she's not really cast, and trying not to be bitter that the actual Ophelia is such a wreck. Her smarts and capability of course find her pairing off with Jake (Kirby), who's more famous but less theatrical.

Slings and Arrows Is the Show Rachel McAdams (and All of Us) Deserved
By Margaret Lyons. Vulture Magazine, Aug, 2015.
Then you remember… she was Regina George! It's easy to overlook how good an actor Ms. McAdams is since she frequently is overshadowed by her co-stars. Much like Ophelia herself, people heap all the praise on Hamlet and forget Ophelia. When I keep in mind the breadth of emotions Ms. McAdams has to portray, and how incredibly different this role is from her role in Mean Girls, I feel compelled to say her acting rivals Paul Gross as Geoffrey Tennet
Season 1 Retrospective
Geoffrey: "Are you dead, or am I insane?

Oliver's ghost: "I don't see how those things are mutually exclusive."

S&A Episode 3
My favorite episodes
I recommend watching all six episodes of Season 1 consecutively, but I can't deny, some episodes are better than others, especially in Season 1. The first three episodes mainly focus on Oliver's death and the tragedy of the falling out between Geoffrey, Oliver, and Ellen. This is important for backstory purposes, but it's a little uncomfortable and sad to watch. My favorite episodes are episodes 4,5 and 6. Here's why:
Episode 4: Outrageous fortune
After a drunken sword fight at his ex-girlfriend's house, Geoffrey winds up in jail. This is his rock bottom. He even paraphrases Hamlet's most famous speech as he contemplates ending it all in his cell. Thankfully, Oliver's Ghost talks him out of it. Once he's released, Geoffrey is re-energized and has a new purpose in life- directing Hamlet. Again, after three episodes of Geoffrey hurting, irritating, and sometimes even stabbing people, it's nice to see our hero do what he was put here to do.
Episode 5:A Mirror Up to Nature
Geoffrey is finally fully committed to making the best Hamlet he can be, but he's having problems with his Ophelia.
Geoffrey's star is missing! With the production stalled, Geoffrey and Ellen finally have it out, and finally, share their tragic past with each other. Now the race is on to, "Repent what's past, avoid what is to come, and fulfill their promise to Oliver.
So I hope I've articulated why I love this show and its characters. Just like anyone who's ever had a boring office job loves and recognizes the characters from "The Office," those of us in the theater recognize the crazy directors, the hopeful understudies, the divas, and the money-grubbing management. These characters feel like our friends and colleagues and they care so much about the universal dogma of "The show must go on," no matter what kind of agonizing problems slow it down. Whether it be death, dementia, or a dislocated knee caused by a chameleon. the show within-this incredibly clever comedy about drama will catch your conscience… and your heart.
Play ME OUT CYRILL!